£4.00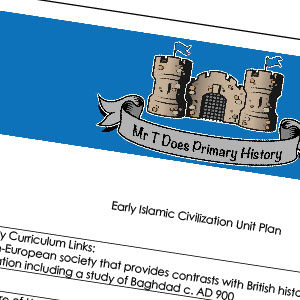 Description
This unit of work is being updated currently.  It will be changing in terms of sequencing and resourcing. Some of the suggested links are broken. The price has been heavily discounted to reflect this! This is NOT the updated unit and does not contain the resources that are currently being shared online.
This unit of work contains the following resources:
– 1 MTP which gives a learning overview for the unit of work, assessment opportunities and cross-curricular links
– 1 Cover sheet
– 6 Detailed lesson plans including contextual information, relevant links to other periods in history, lesson plan and suggested resources
– Additional resources to support lessons where a version is not available online
It is aimed at Years 5 and 6 and contains age-appropriate sources but please check before using to ensure they are appropriate for your class. These lessons give a clear and accurate overview to the periods of history being studied. Each lesson builds on the previous ones to build up a coherent and knowledge rich understanding of aspects of Early Islamic History alongside pertinent links to the Anglo-Saxons and Vikings.
Please note: This resource does contain reference to the prophet Muhammad in the chronology lesson. Should you wish to change the phrasing of some of the events mentioned, please contact me through the website and I will send you the editable word timeline cards.